English Language Department - EL
<![if !vml]>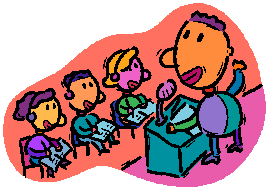 <![endif]>
About the teachers...<![if !vml]>

<![endif]>
The EL Team teachers are Pauline, Holly, and Adrian.
They have all had extensive experience in teaching English to children and adults, both here in Holland and around the world.
Pauline was a teacher in England before moving to Holland.
Adrian and Holly have both spent time teaching in Japan.
About our methods...<![if !vml]>

<![endif]>
The EL team teachers try very hard to make the lessons interesting, educational and fun for your children. 
Although the teachers all follow a base curriculum for each year group, the program changes slightly per class to reflect the different levels of the individual children.
About cultural exchange...<![if !vml]>

<![endif]>
As well as teaching your child English, the teachers try to tell their groups about important cultural traditions and festivals in England and America.
About the groups...<![if !vml]>

<![endif]>
At the beginning of the school year, in April, your child will be placed in a group, depending on his or her level.  We do our best to place the children in the correct group. Children may change groups throughout the year, particularly at the start of a new term.  
About homework...<![if !vml]>

<![endif]>
It is important that the children practice speaking English at home. Sometimes we give written homework. This helps us best use the time in class for speaking activities. Please support the EL Team by asking your child what they did in the English class. Help them if you can.
About reports... <![if !vml]>

<![endif]>
Students are given a report at the end of every term. This consists of grades and a comment. Please read the comment. You may find some advice from the teacher about how to help your child, for example, please practice reading with your child at homeE
About problems...<![if !vml]>

<![endif]>
If your child has any special problems which may prevent him or her from learning English, please tell us, via the class teacher.
If you think your child is in the wrongE group, please tell the class teacher and we will reconsider their level.
The EL Team
About us...hobbies and interests...
Pauline
<![if !vml]>

<![endif]>  <![if !vml]>

<![endif]><![if !vml]>

<![endif]>
Pauline grew up in Liverpool, England. She loves art, computers and soccer.
Pauline joined JSA in 1998.
Holly
<![if !vml]>

<![endif]><![if !vml]>

<![endif]><![if !vml]>

<![endif]>
 Holly grew up in Formby, England. She loves yoga, travel and reading.
 Holly joined JSA in 2000.
Adrian
<![if !vml]>

<![endif]> <![if !vml]>

<![endif]>  <![if !vml]>

<![endif]>
Adrian grew up in London and Scotland. He loves Shakespeare, theatre and living in Amsterdam.
Adrian joined JSA in 2003.